My 30 day squat challenge is a great way to strengthen your legs, grow lean muscle and burn calories all day long.
Benefits of squats
Here are some of the benefits of why squats are one of the best exercises you can do :
It's a 'functional exercise' so will help you in daily life when you need to squat to do something
They improve posture
Boost circulation
Gain strength in upper and lower body
Improve core strength
They increase mobility and flexibility
Improve bone density
What's more, you can download my free printable PDF to tick off each day as you go along. If you stick it somewhere prominent, like on your fridge, then it will remind you every day to do your squats.
30 day squat challenge
As you know, I love a fitness challenge. My first
fitness challenge post
gave many examples of short term challenges to prevent your exercise programme from getting boring. For my 30 day squat challenge you need no equipment. It is suitable for all abilities, and there are links below to demo videos to show you how to perform a squat correctly. Here is the challenge :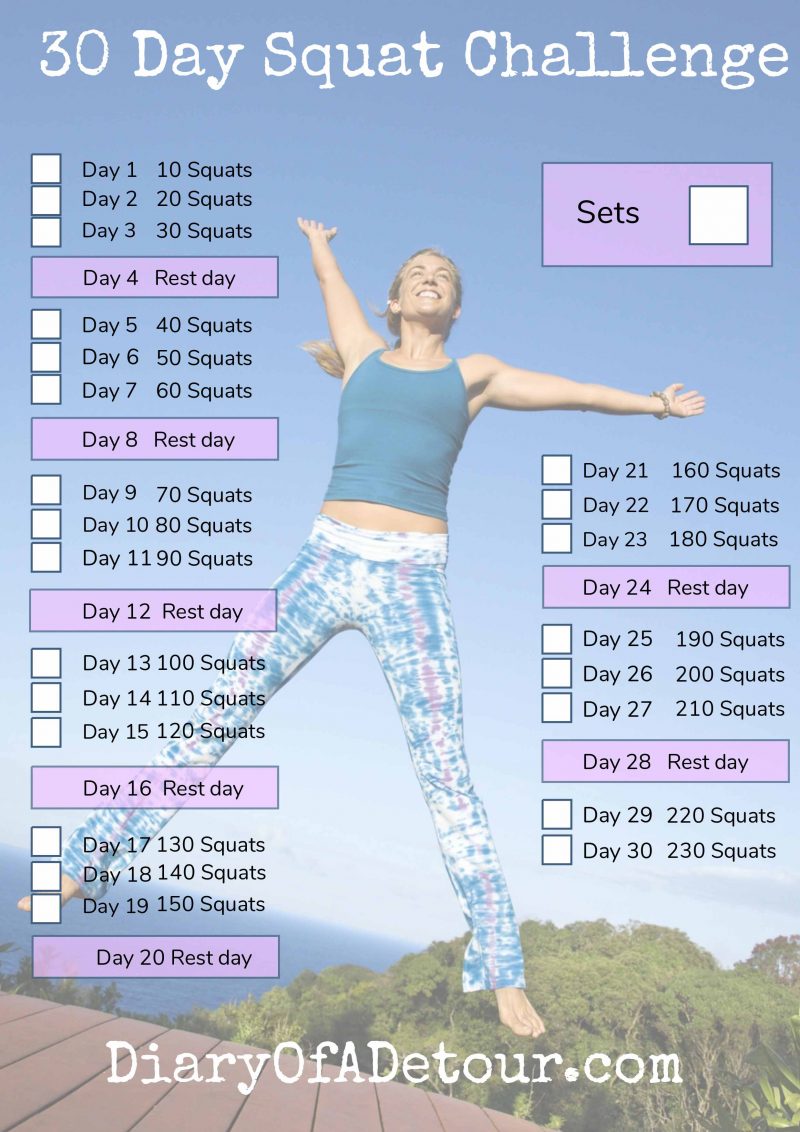 And here is the free printable PDF to download :
free printable 30 day squat challenge
Suitable for all abilities
If you're a beginner then you can simply do one set per day, i.e. the number on the sheet. If you want to take it up a level then you can repeat it X times, each one of which is called a 'set'. If you decide to do more than one set then write your target number in the 'Sets' box. If you are feeling really hardcore then you can make them all 'jump squats'. The first few days may feel easy but once we get into the second week then it will get much more challenging! Squats are such a brilliant exercise because your muscles grow as you increase the number of repetitions. Bigger muscles means you will burn more calories throughout the day. It's really important to do them correctly though, so that's why I'm posting demo videos. Here is a
very short video from YouTube
which shows how to do a perfect air squat (it's called an air squat because you're not using any gym equipment, just your bodyweight for resistance). Here is a
demonstration of a jump squat
from YouTube if you're feeling adventurous! Remember, your weight must be on your heels, not on the front of your feet and you must maintain your lumbar curve. Instead of printing the PDF you can save it to your phone or tablet and refer to it there rather than printing it out if that's easier. Some free apps, such as Notability, allow you to open the PDF and then tick off each day. My 30 day squat challenge will help you kick start your fitness programme in time for the summer.
30 Day Squat Challenge Printable
Here is the link again, to view the printable in a PDF viewer, and you can print it from there to stick on your fridge so there's no excuses for forgetting!
30-day-squat-challenge-pdf.pdf
I would love to hear from you if you're taking up this challenge, so please comment below or
like my Facebook page
to keep in touch! You can also read about how I managed to complete my April daily fitness challenge in the toilet on a transatlantic flight
in this post
! If you'd like to keep up to date with new blogs and get exclusive discounts then sign up for my newsletter below. I promise not to share your details with anyone else and will only send out a monthly email rather than bombarding you daily!

This page contains affiliate links for which I may receive a small commission if you buy something. You will pay the normal price and anything I receive will go towards the running costs of the website.