When we visited California I wanted to see the awesome murals I'd read about so I created my own San Francisco street art tour.  I researched the stories behind many of the best examples which represent political, social and human rights issues.  Most of the murals shown here are permanent, so I would thoroughly recommend seeing them in person to experience the power and passion used to create them.
San Francisco Street Art Tour
The first few murals in my San Francisco street art tour are ones I spotted just wandering around the city, the first being on the side of a Denny's near the Westfield shopping mall.  It is on the corner of Jessie and Mission Streets, is titled 'No Ceiling' and is an enormous, five storey piece by BIP (Believe In People), an anonymous American artist from Oakland.  He spent a month creating this image of an unnaturally muscular young girl which represents the strength of Bay area women.  It is eye-catching and extremely powerful.
The next street art we saw on the trip was this massive Jazz-themed mural on the corner of Broadway and Columbus.  It is on a building which is home to the New Sun Hong Kong restaurant, run by a Chinese family where the owner has lived in San Francisco since he was 15 years old.  Bill Weber painted the four storeys in 1987 initially and it features jazz legends such as Benny Goodman, as well as locals Emperor Norton and Herb Caen.  It has been retouched and restored since, and it must be one of the oldest examples of street art which still exists in the world!
The next example is a tribute to a community project which transformed some waste ground opposite the city hall into an allotment (this is a British term, I'm not sure what the US translation is!).  There are few grocery stores in the Tenderloin district of San Francisco so locals took over this empty space and now grow fresh produce for the community.  The Precita Muralists were inspired to celebrate the hard work which went into the project and painted a vibrant design on the building overlooking the Tenderloin Peoples' Garden on the corner of Larkin and McAllister Streets.
Street Art in Haight-Ashbury
Listen To This Wall is "an initiative to bring a creative antidote to the ever increasing visual noise that crowds our urban landscape. Working with artists and designers to produce original works that offer new ways of seeing and being inspired in our city spaces".  So it's actually an anti-visual space, a place of calm amongst the otherwise bombardment of colour and busy-ness.   It's in the Haight Ashbury district, on the intersection of Haight and Shrader.
Right next to Listen To The Wall is Mushroom With A View!  It is a red and pink psychadelic design featuring (magic?) mushrooms, frogs and other wildlife and is a former Fotomatic kiosk on the corner of Haight and Shrader.  Alex Skelton and Joff Jones were commissioned to paint the kiosk by Rob Schwartz, owner of San Francisco Bicycle Rentals.  Last year was the 50th anniversary of the Summer Of Love, and Rob wanted to mark this by creating a tribute to the psychadelic era, in the form of a giant mushroom!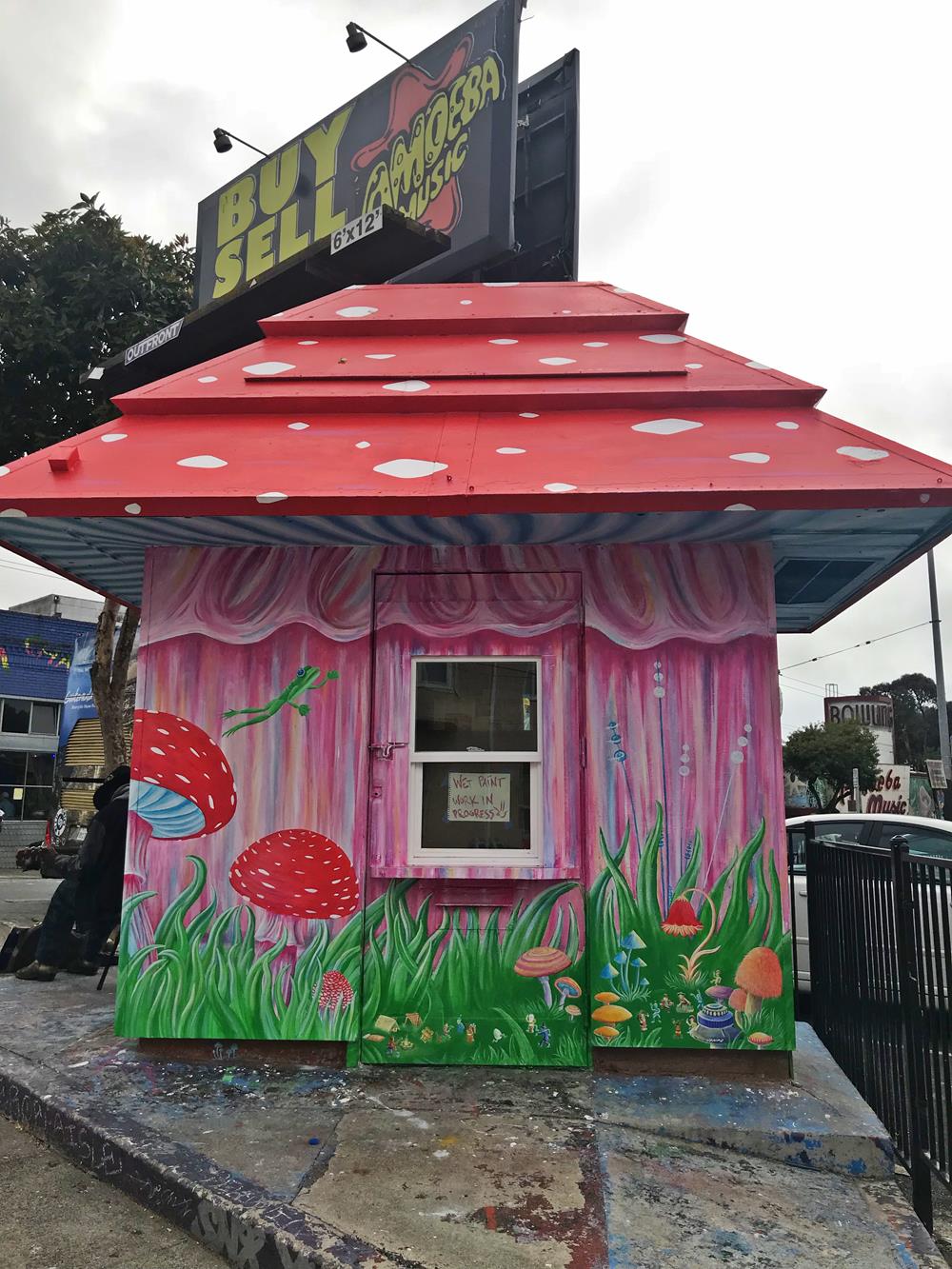 My next photo isn't actually a wall mural.  It's an ornately-decorated store on Haight called Cold Steel America which offers body piercing and tattoos.  The mosaic tiles are incredibly intricate and eyecatching, with 3D flames and embellishments around the door and frontage.
The next stop on our San Francisco street art tour is on the corner of Haight and Masonic.  Another mural celebrating the 50th anniversary of the Summer Of Love in 2017, this is by street artist Apexer and was commissioned by the de Young museum.
Although this isn't strictly street art like the ones above, I do love the rainbow crossings in the Castro district.  It was installed by the city to honour the LGBT community in 2014.  I'm curious how many extra pedestrians cross these particular streets just to get a photo opportunity!  It makes normal black and white zebra crossings so boring and echoes what has been happening in other gay districts around the world including Los Angeles and Sydney.
Clarion Alley
The area most written about for any San Francisco street art tour is Clarion Alley in the Mission District.  It is situated between Mission and Valencia, at 17th and 18th streets.  The area is very reminiscent of Graffiti Alley in Toronto (which I have written about here) but is more political.  The Clarion Alley Mural Project organises the art and promotes social, political and economic justice via the murals.
This art is by the Dope Project which supports overdose prevention and education in conjunction with the Public Health Department.
The next mural has a very sad story behind it.  It was painted in honour of Luis D Gongora Pat, a homeless man who scraped by and sent money back to his family in Mexico.  He was known as "the homeless guy with the soccer ball" and was shot dead by police, allegedly posing no threat to them.  It is a fine example of the social justice statements on many of the Clarion Alley murals on my San Francisco street art tour.
Another social statement was painted by Ivy Jeanne McClelland in 2014 and is protesting against the dotcom influx bringing their dollars to the Mission District and forcing out the people who have always lived around there.  It started at a playground when some Dropbox and AirBnB guys had reserved a pitch for soccer for a $27 fee, angering local Latino players as the way it had worked previously was that the first team who scored would secure use of the playing field.  The resulting confrontation was captured on video and went viral, leading to demonstrations and ultimately a victory for the community who forced the Parks commission to change the reservation policy and revert to the old system.
This work was still in progress when I finished.  Enough Is Enough, Stop Killing Our Children was painted by Mel C Waters in 2018 and is a powerful image of a mother cradling her young child.
The next mural is by Hospitality House and was painted in 2016.  It is called "We all deserve a healthy and safe community" and lists the key attributes that all communities strive for; mutual respect, resiliance, dignity, self-determination and community power.
Another political statement by Megan Wilson is next on our tour and was completed in August 2015.  Her Stop The Corporatocracy mural is another dig at the big dotcom corporations.
The next example on my San Francisco street art tour is a tribute to comic book artist Spain Rodriguez and was painted by Paul Mavrides and Mark Bode.  This was completed in August 2015 and celebrates Rodriguez who painted the first Mission mural in 1971.
"The tigers of wrath are wiser than the horses of instruction" is by Mike Ritch who "investigates man's changing relationship with the natural world…".   It is a striking mural and the title is from a William Blake poem who, by absolute coincidence, lived in a cottage about a mile from my house in Sussex, England at the beginning of the 19th century.  I find it incredible that Blake's words have inspired this most modern form of art in a city many thousands of miles from where he lived.
This is by Erin Feller who painted it in 2016.  I'm sure many others would echo the sentiment, "Men! All of you. Put your guns down" which is spelled out so clearly and succinctly by Erin.
Balmy Alley
Clarion Alley's lesser known neighbour is Balmy Alley, a 15 minute walk away.   The murals here date back to the 1980s and protest against human rights issues and political abuse.  What's interesting about the art here is that some of it is 3D, with wooden pieces fixed to the murals to create a unique effect which contrasts with much of the 'standard' graffiti I've seen elsewhere.
The culture contains the seed of resistance, by O'Brien Thiele and Miranda Bergman dates back to 1984 and represents life in Central America.  It includes poverty, war, music and other aspects of that culture.  It is one of the original murals in Balmy Alley, transforming it from a neglected space into an art gallery enjoyed by thousands of visitors every year.
Laura Campos painted this eyecatching mural which is a tribute to Father Richard Purcell who started a ministry for homeless people with AIDS after caring for his brother who died of the disease.
This iconic pose by Michael Jackson has been immortalised at Balmy Alley.
This is Manjushri, a Buddhist character associated with transcendental wisdom and was painted in 2001 by Marta Ayala.
And so ends my San Francisco street art tour.  I'm so pleased to have these images to remember my visit to this awesome city and hope you have enjoyed the tour too.  I would highly recommend visiting in person as it's difficult to convey just how stunning the murals are.
Here are some useful resources and links :
Here are links to more amazing street art I've photographed :
I use Booking.com when I travel as they offer great choice, value and rooms which can be easily cancelled if needed.  Check out their San Francisco deals below.

We stayed in a great AirBnB apartment in San Francisco and I have to say that it's a great option, especially for a family as it can be much more relaxing than staying in a single or multiple hotel rooms.  Having your own kitchen, lounge and laundering facilities is really handy.   If you're a new customer then you can get a $35 travel credit if you sign up using this link.
This post contains affiliate links. If you click on a link, I get some money at no extra cost to you = I get to write about more stuff I love, yay!